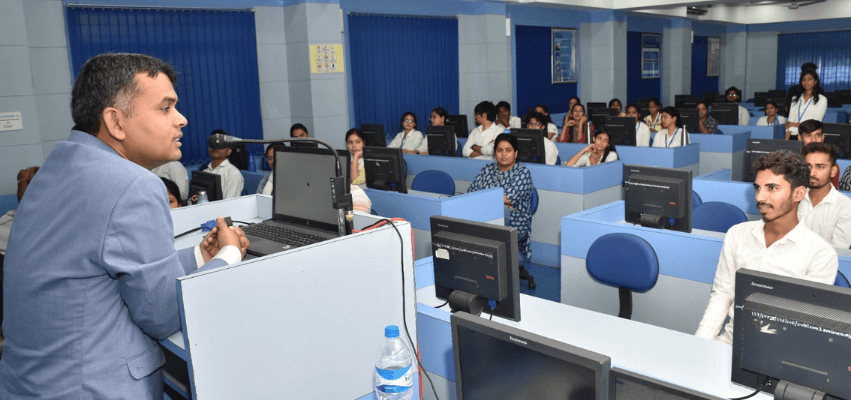 Expert Talk Use of Forensic Science in Corporate Sectors, Shri Vaishnav Vidyapeeth Vishwavidyalaya, Indore
---
As a forensic entrepreneur, I know how difficult it is for businesses to maintain a smooth workflow. And with increased digitalization, the number of fraud cases has risen manifold.
To educate our budding forensic experts about the threats and challenges the corporate sector faces, and how forensics can help overcome threats and identify suspects, I was invited by Shri Vaishnav Vidyapeeth Vishwavidyalaya in Indore to deliver a lecture on the topic "Use of Forensic Science in Corporate Sectors" on May 12, 2023.
Here are a few of the key points I covered during my lecture:
Financial Fraud Investigations: Forensic accountants use several techniques to spot and analyze financial frauds, like analysing financial statements, transactions, etc. Businesses can benefit from these investigations to recover losses and identify the person or group responsible for the fraud.
Digital Forensics: Nowadays, due to the increased use of technology, businesses are vulnerable to cyberattacks and data breaches. It can lead to asset losses and harm their online reputation. Digital forensics experts use specialized software and techniques to investigate cybercrimes and recover lost data. They can also analyze digital evidence, such as emails, chat logs, and social media activity, to identify the perpetrators of cybercrimes.
Intellectual Property Investigations: It is crucial for businesses to protect their intellectual property. Forensic experts can help in analysing and comparing products, identifying counterfeits, and detecting trademark infringement. These investigations help businesses protect their intellectual property and prevent losses.
Workplace Investigations: Businesses can suffer huge losses due to employee misconduct like theft, discrimination, harassment, etc. Physical evidence like fingerprints and DNA, as well as digital evidence like chats and emails, can be analysed by forensic experts to identify the person responsible for the misconduct.
Employee Background Checks: These are a must for businesses of all sizes to make informed hiring decisions, hire only qualified and trustworthy employees, and maintain a safe and secure workplace. Forensic experts conduct background checks to analyze criminal records, verify education and employment histories, establish the legitimacy of degrees, and might also conduct interviews with the references provided.
Litigation Support: Even when businesses have proof of misconduct, they need to present it in court. Forensic experts, apart from examining the evidence, can provide expert testimony and assist with case preparation. It helps businesses build strong legal cases and increase their chances of success in court.
It is only a glimpse of how forensic science can be applied in the corporate sector. By leveraging the expertise of forensic experts, businesses can protect themselves from losses, prevent future crimes, and ensure a safe and secure workplace.
I am glad to have delivered a lecture to students whose enthusiasm and curiosity to learn more about the topic were remarkable.
I am also grateful to the organizers and Vice Chancellor, Dr. Upinder Dhar, for the opportunity to share my knowledge and experience!
Contact me if you want to know how I can help your organization in solving complex cases.