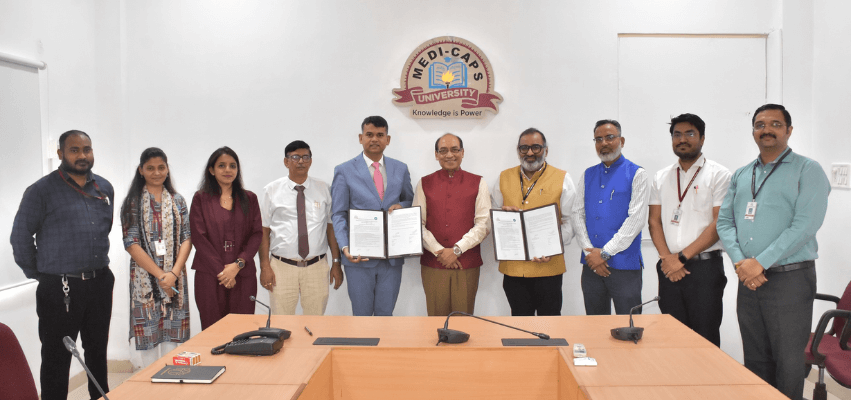 SIFS India and Medi-Caps University Collaborate for a Transformative Forensic Partnership
---
A Memorandum of Understanding was signed between the Sherlock Institute of Forensic Science and Medi-Caps University, Indore on May 12, 2023.
The move is a significant step towards advancing the field of forensic science and aims to utilize the combined expertise and resources of both institutes.
The partnership will open up new avenues for knowledge exchange and professional development.
Students and faculty can benefit a lot from this partnership in the following ways:
Enhanced Research Opportunities: By combining the academic rigor of the university and the practical expertise of SIFS, innovative forensic investigation techniques and crime prevention strategies can be developed.
Interdisciplinary Research: This multidisciplinary approach will enrich the understanding of crime patterns, behavioral analysis, and the development of advanced forensic tools, ultimately strengthening the criminal justice system.
Educational Advancement and Skill Development: Development of specialized courses and training programs catering to the evolving needs of the industry. Students can have an edge over their peers by combining academic knowledge with practical training.
Exposure to State-of-the-Art Forensic Laboratories: By associating with SIFS, students will have access to advanced forensic lab set up, equipment, and real-life case studies. This hands-on experience will enhance their problem-solving abilities, critical thinking skills, and ethical awareness, enabling them to excel in their future forensic careers.
Professional Development and Knowledge Exchange: Through workshops, seminars, and conferences, professionals will have access to and gain knowledge from each other's expertise and experience. This knowledge exchange platform will promote networking among like-minded individuals, encourage the adoption of best practices, facilitate career growth, and keep professionals updated with the latest advancements in forensic sciences.
I feel the collaboration between both organizations is a significant milestone in the advancement of forensic science in India.
I am confident that this partnership will not only benefit the students, researchers, and professionals directly involved but will also have a ripple effect throughout the entire forensic ecosystem, leading to a positive transformation in society.